To the Reader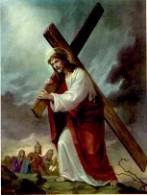 Life can be very bitter at times. We can be overcome by pain, by suffering of all kinds, sickness poverty and loneliness. We can feel abandoned and alone, without support or anyone to whom we can turn. This can be a call from God to turn to him. We cannot leave our lives to God in the sense that we expect him to work miracles for us, but having done what we can to change things, then we can leave the rest to God. Remember always that great saying of St. John "It is not that we first loved God but that God first loved us". God chose us in Christ before he created the world, and God will never abandon us. We are never merely alone – He is always there. We are all sinners but God still loves us and will never condemn us. Use this little book of prayers and it will bring you closer to God and to peace of heart and mind.
Approbation
These prayers were copied from a book printed in Toulouse in 1740 and published by Father Adrien Parvilliers of the Society of Jesus, Missionary Apostolic of the Holy Land with the approbation, permission and recommendation to spread the devotion.
At the time of St. Bridget in the XIV century, printing had not been invented but recourse was had to copyists. Pope Urban VI encouraged the multiplication of the number of copies of the revelations of St. Bridget, which Kings, Bishops, Universities, Convents and Libraries were clamouring for.
The books containing these prayers and promises have been approved by a great number of prelates among whom are His Eminence Cardinal Giraud of Cambria in 1845, Archbishop Florian of Toulouse in 1863. The collection of small books, among which were these Prayers, was blessed by his Holiness Pope Pius IX on May 31, 1862. Finally, this collection was recommended by the Great Congress of Malines on August 22, 1863. Those who visit the church of St. Paul at Rome can see the natural size crucifix sculptured by Pierre Cavallini before which St. Bridget knelt and the following inscription is placed in the church: "Pendentis, pendente Sei verba accepit aure accipit et verbum corde Brigitta Deum. Ano Jubilei MCCCL", which recalls the prodigy with which the crucifix conversed with Bridget.
ST. BRIDGET OF SWEDEN
On the occasion of Birgitta Birgersdotter (Bridget in English), 600th anniversary, Lutheran bishops from the Swedish State Church met to pray together with the Holy Father in the Church of St. Peter in Rome. The King and Queen of Sweden also took part in this prayer meeting. Pope Bonifaz IV had Birgitta Birgersdotter canonised in the year 1391. She was born in 1303.
In the centre of Sweden there is a placed called Vadstena (situated beside Lake Vaetern). In the Middle Ages Vadstena was a religious and cultural centre which radiated far beyond its region. The patron saint of the town is St. Bridget. She is one of the most renowned personalities of Sweden. Very well known are her revelations and prayers, the texts of which were translated into Latin by her confessional priests. Fr. Petrus Olavi and Matthias of Linkoeping. From these texts one can learn a lot about the time when Sweden became Christian and as well it gives an insight into the lifestyle of Sweden of that time. It gives a clear account of how the women lived during the Middle Ages. Interesting enough one can also find political information. Most of all the Swedish pagan nobility criticized St. Bridget.
St. Bridget – who is of noble blood – married a country judge called Ulf Gudermarsson. She bore him eight children. Bridget was a good wife who lived happily with her husband for 28 years. Her husband died after a pilgrimage to Santiago de Compostela in Spain. St. Bridget was also a good mother, she reared all of her children to lead holy lives.
King Magnus Eriksson gave St. Bridget a present of a country estate called Vadstena, even though she sometimes made him uncomfortable with her counselling. St. Bridget wanted to erect a twin-convent on the grounds of the Bjaelbo Palace, but her patience was put to trial. Due to internal ecclesiastical disputes she had to wait for 20 years for the return of the Pope from Avignon. Her wish was granted shortly before her death in 1373. However, her daughter Katarina in Vadstena took over from there to expand on the bulding up of the Bridget Order. The relics of St. Bridget are presently in the Gothic Convent Church in Vadstena, which was built in 1430.
The Bridget Order has had a very moving past. Due to the prosperity of the church during the reformation the kings lost possession of the churches and convents. After Carl IX had forbidden the Catholic religion the nuns of the Bridget Order were also cast out of the country. In 1952 there was a constitutional change which allowed the Catholic religion to enjoy the same rights as the State Church. This made way for the return of the Bridget Order. Today in Vadstena there exists another convent of the Bridget Order. Presently there are thirteen nuns living humble lives in a building near the original convent. The original convent is still in the possession of the State and is presently being used as a hotel.